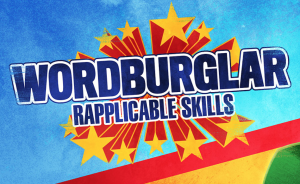 The new Wordburglar album is RAPPLICABLE SKILLS.
It drops next month.
Featuring 15 brand new Wordburglar tracks with production from Beatmason, Fresh Kils, Ghettosocks, Milk Plus, Peter Project, Savilion and Timbuktu., cuts by DJ Irate, More or Les & Uncle Fes and featuring guest rapping appearances from Chokeules, Ghettosocks, MC Frontalot, MegaRan, More or Les, Savilion, Swamp Thing, SyFy, Timbuktu &, Ultra Magnus. All brought together with incredible original album art by James White of Signal Noise.
Get ready.
Lots more news very soon, but for now if you're in Toronto or Halifax you need to come to the CD Release Parties…
TORONTO CD RELEASE: Friday August 7 at The Garrison, 1197 Dundas West.
https://www.facebook.com/events/395717753958882/
HALIFAX CD RELEASE: Friday August 14 at Gus' Pub, 2605 Agricola Street.