This Sunday I'll be signing copies of the new comic book I made with Dave Howlett & Alex Kennedy "The Last Paper Route"  at Word On the Street Toronto from 10am-5pm. So come by the DECENT COMICS Booth FB16 (Fringe Beat Section) at Harbourfront Centre 235 Queens Quay West and say hi! I'll be there all day sipping coffee and chatting about words and stuff. It'll be fun.
"Sean Jordan aka Wordburglar, rapper and writer of THE LAST PAPER ROUTE and SNAKOR'S PIZZA will be signing comic books and CDs at WORD ON THE STREET TORONTO on Sunday Sept. 27th from 9am-5pm. Taking place at Harbourfront Centre Booth FB16"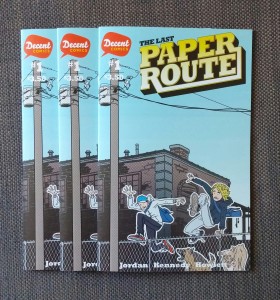 Comic Books, CDs and T-shirts will be available at the DECENT COMICS Booth all day.